Learn About Child Development
Welcome to Parenting!
Did you know that almost 90% of the architecture of a child's brain is already developed by the time he or she is 5 years old?
Parenting in these early years is an important and sometimes tough job! Washtenaw Success by 6 Great Start Collaborative wants to make sure that you have all of the support that you need to send your children off to Kindergarten ready to succeed! To help you in this task, we offer:
Email sign up for tips and developmental information
The First Five Years and the Importance of Literacy
Since your child's brain is developing at such a rapid rate, it is important to expose your child to many experiences. Check out the Developmental Milestones of Literacy and MI Kids Matter to learn what you should expect from your child at different ages.
Don't Worry, But Don't Wait
If you are having concerns about your child's development, Early On provides services and supports to infants, toddlers and families who live in Washtenaw County.
To find out if you are eligible and what services you might be able to receive, click here.
Take our FREE Developmental Screening to help your child learn and grow!
Are You Looking for Childcare?
Contact Great Start to Quality to find a childcare provider near you.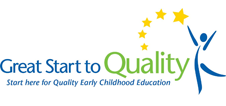 Do You Need Health Care For Your Child?
Contact Kelly Stupple, Child Health Advocate, at 734-544-3079, or by email.
ADA & Accessibility
Our School Strives To Ensure Our Website Is Accessible To All Our Visitors
Washtenaw ISD is committed to providing a website that is fully accessible and we are currently in the process of developing a new website to better meet the needs of our customers. Our new website will include improvements to ADA compliance and accessibility, and during this transition, we remain committed to maintaining our existing website's accessibility and usability.
Non Discrimination
It is the policy and commitment of the Washtenaw Intermediate School District not to discriminate on the basis of race, color, religion, national origin, sex, disability, age, height, weight, familial status, marital status, genetic information, sexual orientation or any legally protected characteristic, in its educational programs, activities, admissions, or employment policies in accordance with Title IX of the 1972 Educational Amendments, executive order 11246 as amended, Section 504 of the Rehabilitation Act of 1973 and all other pertinent state and Federal regulations.
Non Discrimination Information
ADA and Title IX Coordinator
ADA and Title IX Coordinator
Brian Marcel
Associate Superintendent
1819 S. Wagner Road
Ann Arbor, MI 48103
(734) 994-8100 ext. 1402
Cassandra Harmon-Higgins
Executive Director, HR & Legal Services
1819 S. Wagner Road
Ann Arbor, MI 48103
(734) 994-8100 ext. 1311