Ten Tips for Reading with Young Children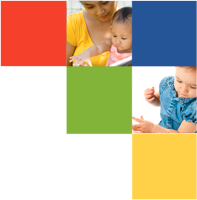 Children benefit from being read to starting as early as six weeks—or even sooner—to well beyond the time they are able to read for themselves. It starts them off to become good readers, good listeners and good students.
Here are ten tips for making the reading experience both fun and rewarding for parents as well as children.
Choose Great Books.
For very young children, choose a sturdy board, cloth or vinyl book. Babies like to hold and chew on their books to learn more about them. Pictures should be bright and clear, stories short and entertaining. Babies and young children love to see pictures of other children. Choose books you enjoy reading out loud. Letting children select books boosts their interest in reading and gives them a feeling of being important.
Sit Close.
Pick a comfortable place to sit. Let children snuggle up to you or sit on your lap. This builds a warm bond and makes it easier for children to see the pictures and the words. It also lets children participate by helping you to turn the pages.
Preview the Book.
Talk about the book before you start reading it aloud. Have the children look at the cover. Can they guess what the book is about? Who wrote it? Who drew the pictures? Previewing the book helps get children excited about reading it.
Read with Expression.
Use your voice to make the book interesting and fun. Start out softly, but make your voice sound excited, scared, soft or loud as the story suggests. With nursery rhymes and poems, read to bring out the rhythm of the lines.
Read Slowly.
Read the book at a relaxed pace, so the children can follow the story. Let them ask questions or point out things in the story that interest them.
Point to Pictures.
Pointing to pictures and having children name objects helps them learn words. Play little games by asking them questions, like "Where's the kitty?" or "What's that?" Help with answers if they don't know. Count out loud the number of clouds or bunnies, or name the colors of flowers or shirts in a picture.
Let Children Predict.
Ask your children what they think will happen next. This helps build attention and memory.
Connect the Story to Life.
Stories about things like going to daycare, a new baby, or a visit to the doctor can help the child get used to an idea before it happens. Books can help a child to open up and talk about things that worry them, or things that they are excited about.
Point to Words and Letters.
Point to words as you say them. This teaches that words have meaning—and that written words can be spoken. With toddlers it can be useful to point out letters—maybe beginning with the first letters of the child's name.
Keep it Fun!
The more fun kids have in your reading aloud, the more they will love books and want to read for themselves. Pick times to read when the child is not too fussy or distracted to pay attention—and when you are not too stressed to enjoy reading to the child. For younger children, many short story times may be better than a few long ones. Take a break if you have completely lost the child's attention. Regular reading times are important. A story before bed is often a wonderful way to help a child calm down for sleep.
ADA & Accessibility
Our School Strives To Ensure Our Website Is Accessible To All Our Visitors
Washtenaw ISD is committed to providing a website that is fully accessible and we are currently in the process of developing a new website to better meet the needs of our customers. Our new website will include improvements to ADA compliance and accessibility, and during this transition, we remain committed to maintaining our existing website's accessibility and usability.
Non Discrimination
It is the policy and commitment of the Washtenaw Intermediate School District not to discriminate on the basis of race, color, religion, national origin, sex, disability, age, height, weight, familial status, marital status, genetic information, sexual orientation or any legally protected characteristic, in its educational programs, activities, admissions, or employment policies in accordance with Title IX of the 1972 Educational Amendments, executive order 11246 as amended, Section 504 of the Rehabilitation Act of 1973 and all other pertinent state and Federal regulations.
Non Discrimination Information
ADA and Title IX Coordinator
ADA and Title IX Coordinator
Brian Marcel
Associate Superintendent
1819 S. Wagner Road
Ann Arbor, MI 48103
(734) 994-8100 ext. 1402
Cassandra Harmon-Higgins
Executive Director, HR & Legal Services
1819 S. Wagner Road
Ann Arbor, MI 48103
(734) 994-8100 ext. 1311