Your Child at 5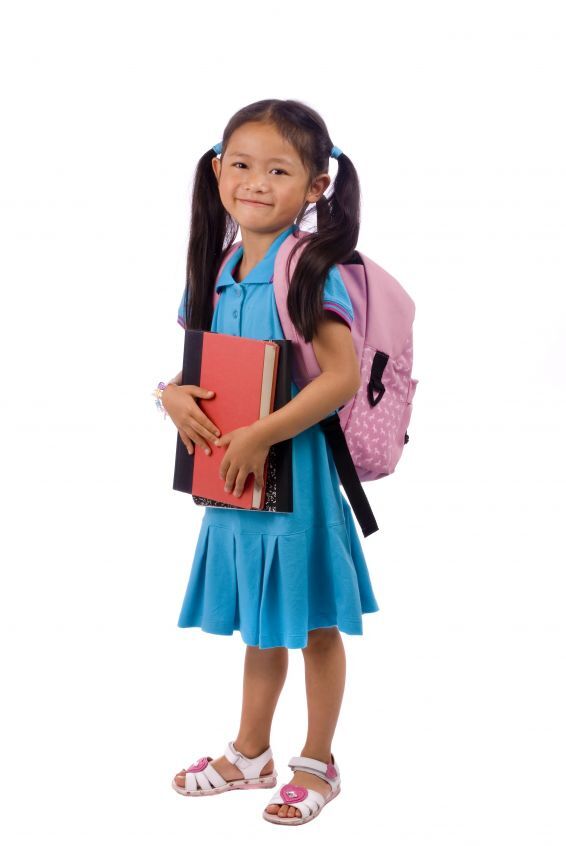 This is a big year for your child! They may start kindergarten, gain a new sense of independence, make some big developmental achievements, and continue to develop social relationships.
Your local school district can provide all of the information you need to register your child for kindergarten.
One important step is to check with your doctor to ensure that your child has the required immunizations.
Visit Healthy Children for more information about your child's growth and development, about preparing for the kindergarten experience, for solutions on handling defiance, and much more.
At 5 years old your child should be able to:
Assist in making their bed
Color within the lines
Tie their shoes
Jump rope independently
Use past, present, and future tense accurately
Group similar objects together
Understand the idea of today, tomorrow, and yesterday
Identify most letters and numbers
Retell a story from a picture book with reasonable accuracy
Comfort friends who are hurt or sad
Understand that games have rules
Express feelings
If you have concerns about your child's development, contact the Washtenaw ISD Early Childhood Department at (734) 994-8100, ext. 1832.
Kindergarten is an exciting milestone for you and your child. It can also be an anxious time. Parents often ask, "Is my child ready for kindergarten? Do they have the skills they need to be successful?"
Children often wonder, "Who will help me? Will I miss home?"
Michigan Department of Education provides a complete series of articles that will help you to prepare for the first day of kindergarten, including lists of activities, what skills are expected, books about starting school, and how you can help your child through the transition of the first weeks.
If your child's birth date falls near the cutoff, or you are still undecided about whether your child is ready for kindergarten, talk with your pediatrician, consider visiting the local elementary school, and check out Healthy Children for a different perspective to help you make an informed decision.
helping your preschool child become a reader
Learning to read and write begins at birth. Children learn to read and write because they are natural communicators. They want to share needs, feelings, and ideas with family members, teachers, and friends.
First Steps Towards Reading and Writing
Ten Tips for Reading with Young Children
Books Preschoolers Like
Ones that tell stories (like fairy tales and legends)
Books about kids that look like them and live like them
Books about different places and different ways of living
Books about going to school and making friends
Books with simple text they can memorize
Counting books, alphabet books, vocabulary books
Eating healthy foods enables children to perform better in school. Once your child enters kindergarten, they will be eating one meal a day away from home. To ensure that your child makes healthy choices, check out the following sites for information about food groups and interactive games that allow your child to learn about healthy eating habits.
USDA Health and Nutrition Information
Healthy Eating and Your Family
Prevent Accidents and Injury
As your child grows, they will be spending greater parts of the day away from you. It is more important now that your child understand basic safety precautions, such as wearing a helmet when biking, crossing the street safely, avoiding dangerous substances, and not talking to strangers.
ADA & Accessibility
Our School Strives To Ensure Our Website Is Accessible To All Our Visitors
Washtenaw ISD is committed to providing a website that is fully accessible and we are currently in the process of developing a new website to better meet the needs of our customers. Our new website will include improvements to ADA compliance and accessibility, and during this transition, we remain committed to maintaining our existing website's accessibility and usability.
Non Discrimination
It is the policy and commitment of the Washtenaw Intermediate School District not to discriminate on the basis of race, color, religion, national origin, sex, disability, age, height, weight, familial status, marital status, genetic information, sexual orientation or any legally protected characteristic, in its educational programs, activities, admissions, or employment policies in accordance with Title IX of the 1972 Educational Amendments, executive order 11246 as amended, Section 504 of the Rehabilitation Act of 1973 and all other pertinent state and Federal regulations.
Non Discrimination Information
ADA and Title IX Coordinator
ADA and Title IX Coordinator
Brian Marcel
Associate Superintendent
1819 S. Wagner Road
Ann Arbor, MI 48103
(734) 994-8100 ext. 1402
Cassandra Harmon-Higgins
Executive Director, HR & Legal Services
1819 S. Wagner Road
Ann Arbor, MI 48103
(734) 994-8100 ext. 1311