Brain Growth and Development
"The early years of life matter because early experiences affect the architecture of the maturing brain. As it emerges, the quality of that architecture establishes either a sturdy or a fragile foundation for all of the development and behavior that follows -- and getting things right the first time is easier than trying to fix them later."
- FrameWorks Institute
Investment in early childhood programs and education is an investment in our children's brains:
Source: Born Learning, United Way of America
90% of the brain develops in the first 5 years.
By the age of 5, many children in high-risk environments are already developmentally behind. This gap only grows over time –undermining school readiness and success in life.
Kindergarten teachers estimate that 1 in 3 children enter the classroom unprepared to meet the challenges of kindergarten.
Some 46% of kindergartners come to school at risk for failure.
The poorest children start kindergarten 1-2 years behind in language and other skills important to school success.
Yet, despite this knowledge, we continue to invest less for this critical time, and put our economic future at risk.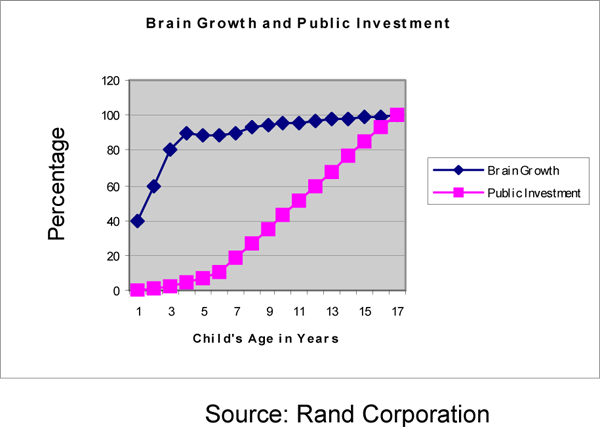 ADA & Accessibility
Our School Strives To Ensure Our Website Is Accessible To All Our Visitors
Washtenaw ISD is committed to providing a website that is fully accessible and we are currently in the process of developing a new website to better meet the needs of our customers. Our new website will include improvements to ADA compliance and accessibility, and during this transition, we remain committed to maintaining our existing website's accessibility and usability.
Non Discrimination
It is the policy and commitment of the Washtenaw Intermediate School District not to discriminate on the basis of race, color, religion, national origin, sex, disability, age, height, weight, familial status, marital status, genetic information, sexual orientation or any legally protected characteristic, in its educational programs, activities, admissions, or employment policies in accordance with Title IX of the 1972 Educational Amendments, executive order 11246 as amended, Section 504 of the Rehabilitation Act of 1973 and all other pertinent state and Federal regulations.
Non Discrimination Information
ADA and Title IX Coordinator
ADA and Title IX Coordinator
Brian Marcel
Associate Superintendent
1819 S. Wagner Road
Ann Arbor, MI 48103
(734) 994-8100 ext. 1402
Cassandra Harmon-Higgins
Executive Director, HR & Legal Services
1819 S. Wagner Road
Ann Arbor, MI 48103
(734) 994-8100 ext. 1311